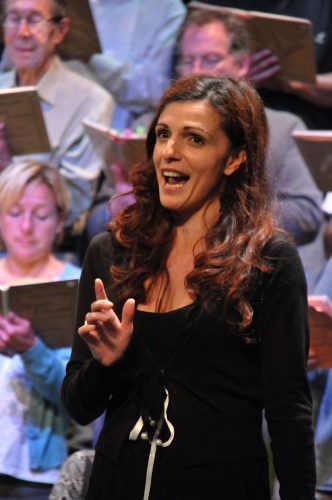 Singing teaching in Schools
Stefanie teaches singing at Portsmouth Grammar School in Portsmouth and Barton Peveril Sixth Form College in Eastleigh. She is also Vocal Coach to the young choristers at Portsmouth Cathedral.
Classical singing lessons with Stefanie
Whether you are a complete beginner, coming back to music after a break, an experienced musician or advanced singer, child or adult, Stefanie can work with you to help develop your singing and reach your goal, whatever that might be.
Stefanie trained as an opera singer at Trinity College of Music and has been an active, working opera singer ever since. She has developed her work as a teacher alongside her performing career, which builds on her own expertise, experience and study with her teacher, the renowned soprano Cathy Pope.
At a level appropriate to you, Stefanie will help you develop a strong classical technique as a foundation on which to build. Within this context, she will work on vocal flexibility, range, style, interpretation, language and artistry. Above all, it is important to have FUN!
Stefanie is an accredited, qualified vocal health first aider and also able to offer vocal health advice and assessments on request.
Benefits of Classical singing lessons
Singing is an incredible tonic for the soul and body. It allows you to free your mind and body as one and let go. It boosts wellbeing and confidence. It gives you the opportunity to step outside your comfort zone, explore and push your own boundaries in a safe environment. It even does wonders for your literacy and numeracy skills! Singing can be as structured (exam based) or as free as you would like it to be and Stefanie works to provide active, engaging and dynamic lessons whatever your end goal.
Booking
Stefanie offers classical singing lessons for all those looking to develop their vocal ability. If you are interested in booking a lesson to see what it is all about or discuss your current stage in vocal development, please contact Stefanie. Stefanie would usually recommend half hour lessons for children and hour-long lessons for adults.
Singing is a personal journey and it is important to work with someone who you can relate to and trust. A first lesson would be a getting to know you session where you can discuss your current progress, what you are looking for and what you want to achieve. Stefanie will work through a number of physical and vocal exercises with you to assess where you are in your singing journey. You could bring a song to sing; something you know well and enjoy singing. After the session there will be time to review what was covered and consider Stefanie's recommendations. Stefanie will be delighted if you wish to book another session, but there is no obligation or pressure.
If you would like to give singing a go, please get in touch!