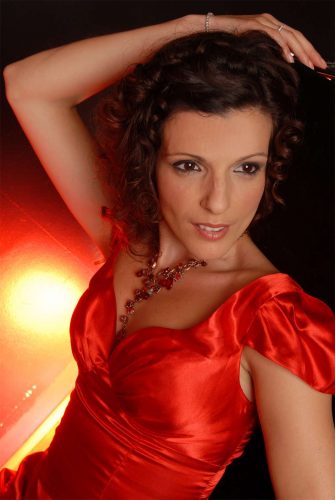 Dramatic coloratura soprano Stefanie Kemball-Read trained at Trinity College of Music, graduating with distinction from their postgraduate diploma programme. During her time there she performed lead roles in every college production, her portrayal of nun Constance in Les Dialogues des Carmélites earning her the Paul Simm opera prize. She was also selected to perform the Song cycle 'On this Island' at the W.H. Auden centenary concert at the Greenwich Old Royal Naval College Chapel and gained accolades for her performance in both Lieder and French song. Her vocal dexterity and magnetic stage presence have enabled her to perform across a number of genres from cabaret to coloratura. She excels in exciting and diverse repertoire, ranging from the vocally virtuosic to the delicately expressive, running the full gamut of the emotional palette in between. Stefanie continues her vocal training and development with renowned soprano Cathy Pope, in the Swedish / Italian school of singing technique.
Stefanie makes her role début as Violetta in Verdi's masterpiece La traviata in May this year for Kentish Opera, directed by Terry John Bates. Other operatic roles performed across England and Europe include Königin der Nacht, Die Zauberflöte, Euridice and Cupidon in Offenbach's Orphée aux enfers, Adele in Die Fledermaus, Lady Harriet in Flotow's Martha, Adina, L'elisir d'amore, Countess, The Count Ory, Ilia, Idomeneo, the title role in Mozart's Zaide, Donna Anna in Don Giovanni, Belinda & First Witch, Dido and Aeneas (English Sinfonia), 1st genie, The Magic Flute, Euridice, Orfeo ed Euridice, Tytania in Britten's A Midsummer Night's Dream, Lucy Brown in Weill's Threepenny Opera, and Constance in Poulenc's Les Dialogues des Carmélites. She has also appeared in many Gilbert & Sullivan roles including Phyllis, Iolanthe, Elsie, Yeomen of the Guard, Mabel, Pirates of Penzance and Josephine, HMS Pinafore.
Stefanie has sung in many masterclasses in Italy and the United Kingdom, notably with Romano Franceschetti, Ian Page, Donald Maxwell, Ubaldo Fabbri, Alberto Jamelli, and Richard Jackson. She is a regular performer on the recital platform and has given solo recitals at London's most celebrated performance venues including St-Martin-in-the-Fields, St James's Piccadilly, St John's, Smith Square, and King's Place. Her repertoire has ranged from the traditional art song – the 2007 Schumann Festival with Eugene Asti – to the more eclectic – performing the European premiere of selected Venezuelan songs by composers Sojo and Carreño at Bolìvar Hall. A natural linguist, she has sung in four dialects of Spanish alone! She is also a regular soloist on the oratorio platform. Recent performances include Haydn's Creation, Handel's Messiah, Orff's Carmina Burana, Poulenc's Stabat Mater and Gloria, Brahms' Requiem, Handel's Judas Maccabaeus, Bach's Matthew Passion, Mozart's Exsultate Jubilate (English Sinfonia), C Minor Mass and Requiem.
Stefanie was the inaugural Musical Director for the Portsmouth Military Wives Choir and the initial music adviser to the newly established national Military Wives Foundation. She conducted them to chart topping success, performing and recording a track on the recent Military Wives album 'In my Dreams' from Decca Records. Stefanie is currently the Artistic Director for the Asociación Arturo Darch, directing and performing in a series of productions in Sotogrande, Spain.
Future engagements for Stefanie include the role of 'Violetta' in La traviata in Spring 2017 and summer and Christmas gala performances in Sotogrande, Spain, this year.